I always enjoyed reading graphic novels, comics, and manga as a kid. The jokes and expressions that can only be expressed through visuals. The feeling of adventure when the main character enters a grand location. I would stare at these panels in awe of the art and work that went into them.
Eiichiro Oda was born January 1, 1975 and is a famous mangaka known for his series One Piece. Currently with around 430 million copies in circulation, it is one of the most popular and best-selling manga series of all time. It all started when Oda resolved to become a manga artist at the age of 4 to avoid getting a 'real job'. Although this sounds lazy his dedication in his work surprised me. His day starts off at 5am and he works until 2am (21 hours!) only taking breaks for things like eating. He also prefers to draw most of the art himself instead of handing them to his assistants. He has also made it clear that he does not like to reuse or copy any old art into new chapters. Instead he redraws them all from scratch. Pouring his heart and soul into each panel.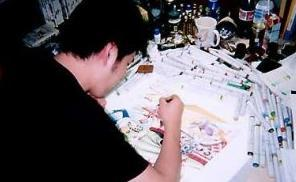 For my first year in eminent I chose Eiichiro Oda. I was drawn to selecting Oda because of my interest in his career and the success he has been able to generate. This titan of a series started off when he submitted his first work Wanted! which received several awards – including second place in something called the Tezuka Awards – and this landed him a job in the Weekly Shōnen Jump magazine.
He first worked as an assistant for other manga artist before he created two pirate-themed one-shots which were published on Akamaru Jump and Weekly Shōnen Jump. One of these one-shots – called Romance Dawn – was the beginning of One Piece. I wish to follow a similar path in my life because I want to give someone else the chance to experience the magic of visual stories.
A comparison:
Yoonha Lee                                       Eiichiro Oda
Korean/

Canadian

Japanese
Interested in becoming a manga artist
Became a manga artist
Straight Male
Straight Male
Born 2003
Born 1975
No kids
2 kids
Raised in Korean and Canadian culture
Raised in Japanese culture
Alive
Alive
A way I can deal with the difference in culture and time we are raised in is by learning about it from other people. I can ask my parents or other adults what the word was like in the 1975-2000 and I can also ask a Japanese adult what it was like 20-30 years ago (or look online). Of course, this information will never be spot on because I will never be able to relive my childhood in 1975-2000 Japan. But it could help a little bit in connecting with my eminent.
Through this project I would like to learn about Oda's path in becoming a manga artist and of the obstacles he had to overcome to get to the end. I also what to learn if I want to follow that path to become an artist. This project also fits snuggly with a goal I have for IEP and the time I have on this planet. I would like to learn about drawing and animation to see if I am interested enough to pursue it as a career.